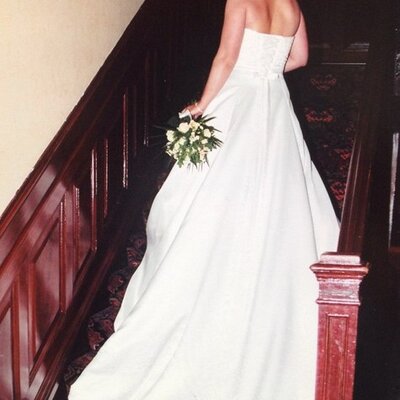 An inspiring story of a very talented Destination Judo judoka who started judo as a young girl and stopped to start a family. She came back years later after watching her son on a mat and became the 2015 World Veterans Champion in Amsterdam.
Today we have an interview with our very own Kirstin Gray. Kirstin coaches with us and assists at the Scottish National Talent Development Talent Development Pathway training sessions at Ratho. She also does grass roots judo like no other with her special Active Panda classes for pre-school children.
We are very lucky to have her and today we are hoping to share a little about her judo journey with you: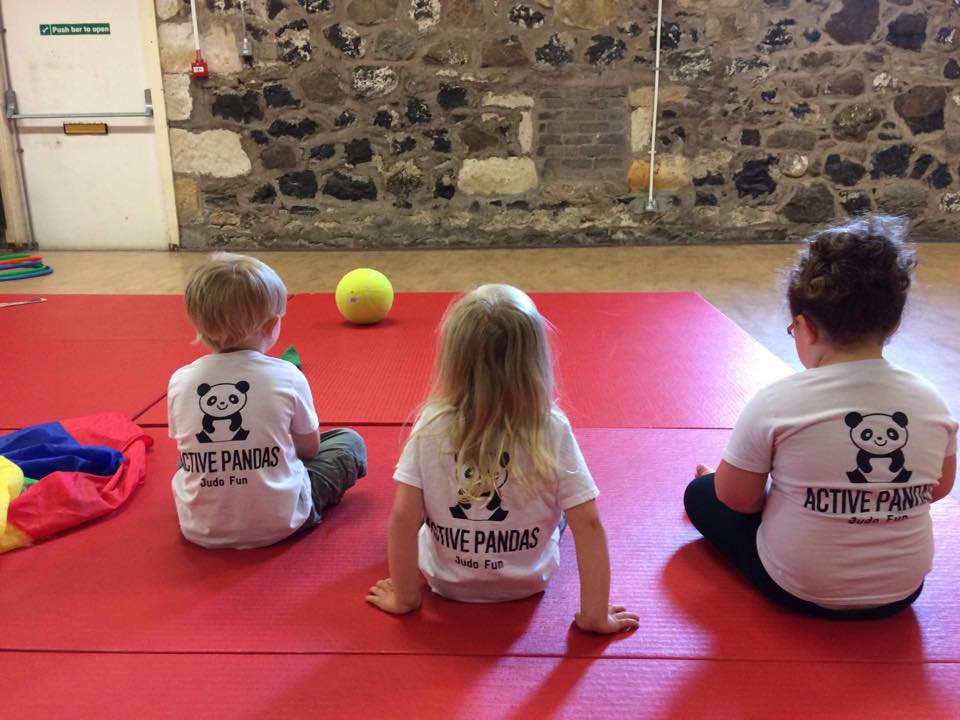 "Kirstin, I am very intrigued by your personality and your success. The first question I would like to ask you – Why judo?"
It was actually because of my twin brothers.
When they started primary school, they were always toy fighting, wrestling and their school teacher suggested it might be a good idea to get them involved in some kind of martial art sports.
My Mum saw lots of children in white suits when in our local community centre, and she decided she will take the boys there – it turned out that was a judo class.
I went along to watch with my mother and brothers, and the instructor asked me one day if I want to try.  I went on, and I absolutely loved it from the first time that I got to throw somebody.
My brothers did judo for about another 6 years, but I just kept going as I loved it so much. 
So, it was all because of my brothers.   
At my first Scottish Open I won a bronze medal.  For the next seven years I won the gold and then also medalled a few times at the British Cadet Opens.  I loved it and was very lucky to have a family that supported me and helped me achieve what I did.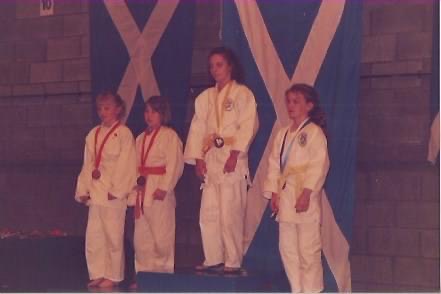 Bronze medal at my first Scottish Open
(second from the left – orange belt)
Photograph courtesy of Kirstin Gray
"I know that judo is a very challenging sport. It requires constant work; not just on your physical but also your mental strength and fortitude. How did you cope with this as a young girl?"
Before I started judo, I was already an active child.
I always liked to play outside, riding on my bike, so I think I was already naturally strong and fit. However, saying this, strength does also come along with the sport. The more I did it, the more I could do and my strength built-up alongside training.
Judo training is very physical, the randori where you get to throw bigger people requires strength but also because of the technical side of it you can throw an opponent that is actually bigger than you. 
I wouldn't say I had to do a lot of specific strength training as a young girl but as I got older – absolutely!
I have always trained alongside boys and throw them in randori. It never bothered me if I trained with a girl or a boy. Because when you are on a judo mat, it really doesn't matter if your opponent is a boy or a girl. In Judo it is normal to train together and learn the same techniques and do randori within the same weight range.
Styles might be different, but for me personally, it was very good to be able to train with boys. It gave me more confidence, and the more I did it, the more I believed I was capable of and I became better and better.
Also being active as a child helped me a lot in my adult life.  I knew judo is always there for me, and that I could do it, I can do sport, I can be active. It is because being active helps you as a child develop good habits.  
That has always been an empowering thought for me. "I can do it!"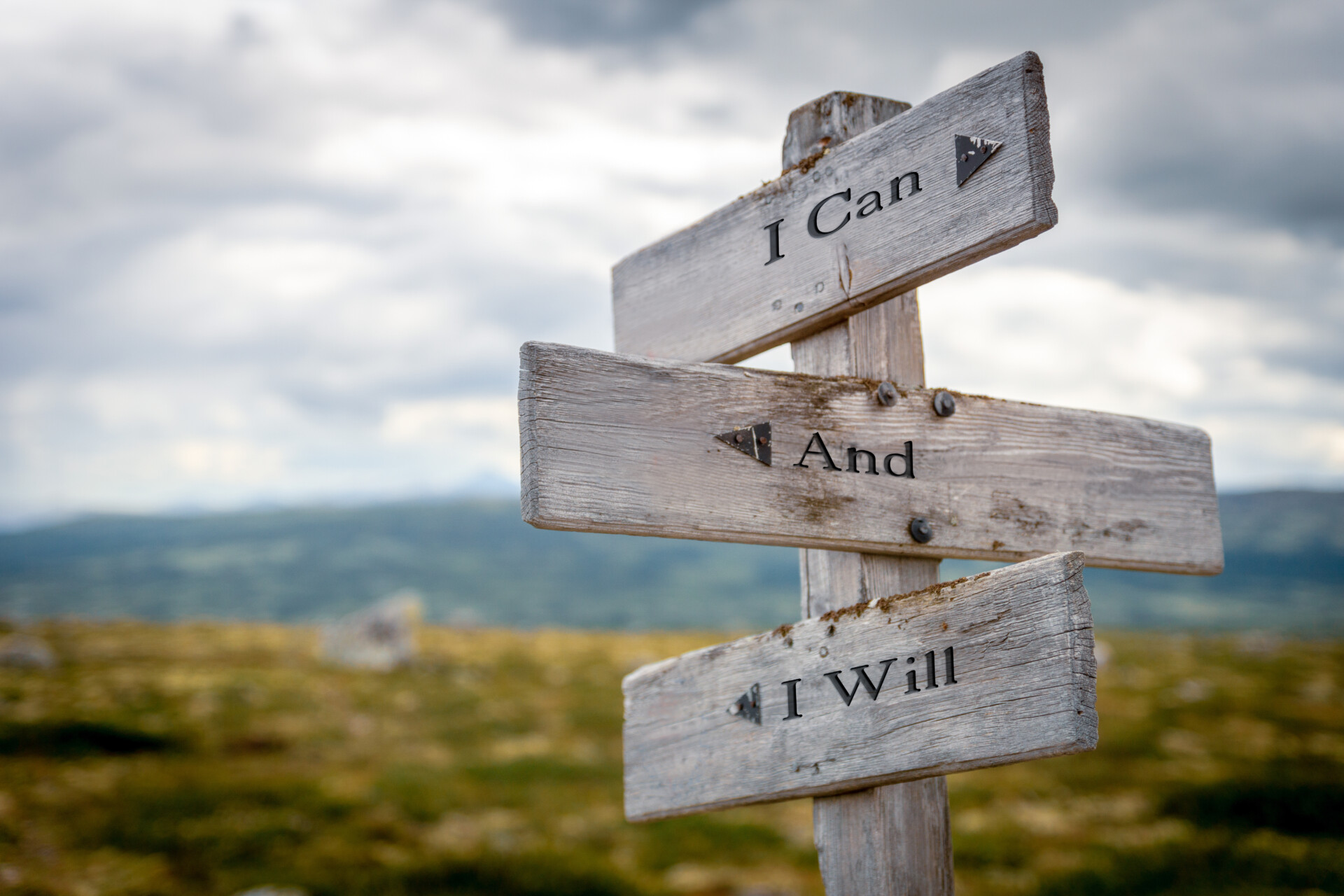 Photograph licensed by Destination Judo
"You were a judoka as a junior and have been actively involved with the Destination Judo system. A good club is essential – you take your role models, examples, all the inspiration and motivation from there. Can you tell me a bit more about Destination Judo and how it influenced you as a person but also as an adult judoka?"
Yes, coaching is very important and essential. I feel like for all levels starting from the beginners up to the top-level Destination Judo care about every single child.
Even when they have busy classes full of children, they are very good at bringing up children's confidence, teaching them judo techniques etc. but also to teach them manners, respect, and how to behave with other children. They coach how to have fun and be involved. 
In my opinion, all the coaches are very supportive and care individually about every single child.  They motivate them and also inspire them a lot.  They praise children for every effort and no matter if they are doing judo for fun or they aspire to be a champion.  They keep encouraging all their children and have a very individual approach.
I think it is because they all really love judo and they don't treat it as a job it is their true passion to pass their knowledge and watch how children fell in love with the sport and how they benefit from it throughout their entire life.  I know a lot of children that are coming back to their coaches, and even when they stopped judo, they keep in touch. And, even if they stopped, they are always welcome to come back and continue.  
"There came a time when you stopped competing.
Was there any particular reason why? Did you miss your training and a mat – the competitive edge, or do you now enjoy recreational judo / coaching more?" 
I did miss competing, yes. I stopped competing and went to college. I met my husband there, started training less and stopped competing, had my children and after that it was basically a different direction my life took.  There was no specific reason for me to stop judo and competing.  Simply my life had changed, but I did miss it, plus where I stayed there was really no judo clubs, and I think I was the only person that did judo there at the time. So it wasn't like I was bumping into people that asked why I wasn't coming to judo or anything like that.
Clubs like Destination Judo didn't exist when I was younger.  I went from junior judo to dipping in my toe into senior judo without the support in training that kids get now.  That shows that you need a good support system and a good coach at the heart of it.  It shows how lucky children are now to have clubs such as Destination Judo where they can always come back, with good structure and pathways they can follow to success – whatever that may be for them.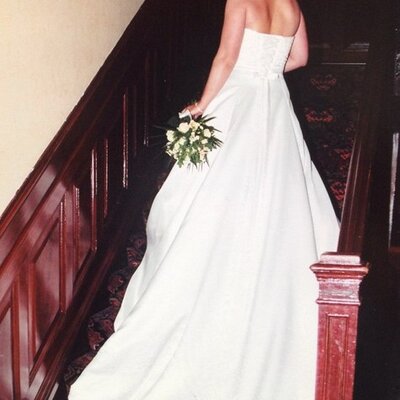 Photograph courtesy of Kirstin Gray
"I know you have a beautiful family. You are Mum to 3 children. Would you like to tell me a bit more about them?"
Yes, I have 3 children.  James, my oldest one, is 17.  He is doing really well, he was diagnosed with epilepsy as a child.  That was very worrying initially for his Dad and for me.  He has managed that since he was really little and i think it has given him focus and drive.  He has won many medals like the British Cadets and other championships.  I think he also has silver and probably two bronzes. 
Alfie, my middle one is 13 now.  When he was 5, he had open-heart surgery, and we were so worried about him being involved in judo, but once he got a "go-ahead" from his doctor and being so young, he recovered really quickly.  I think he came back to judo probably within something like six months after his surgery.  I think it helped him being quite fit and he was able to recover quicker.   
So, my first two children both had health problems to deal with early in their life and it was very worrying initially.  I am glad it didn't hold them back, and I think judo has helped them a lot.  
My youngest one Rachel who is now 11 also does Judo and Gymnastics.  
They have all won the Scottish Championships!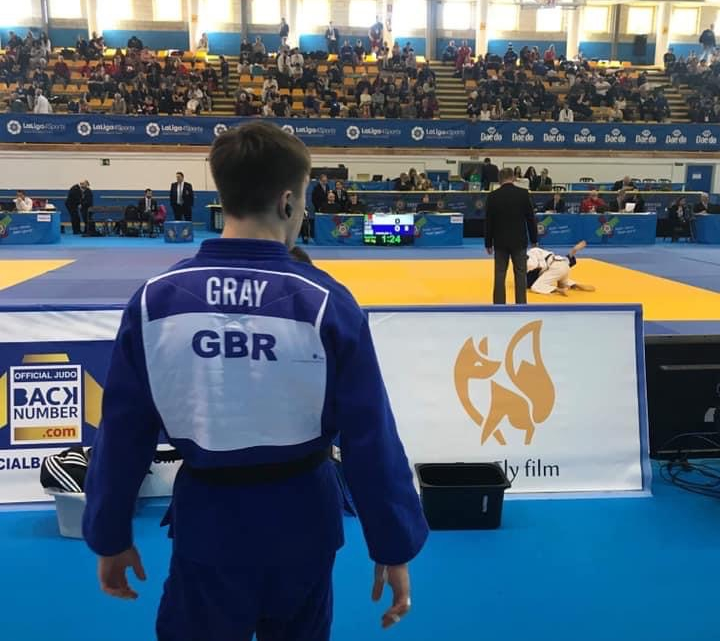 James getting ready to compete
European Cup – Spain 2020
Photograph courtesy of Kirstin Gray
Alfie cheering on his team mates
Photograph courtesy of Kirstin Gray
Photograph courtesy of Kirstin Gray
"I am a Mom of two boys. My older one trains in Taekwondo since he was 4 and he loves it. My younger one (nearly 4) might be good at judo as I continuously see him tackling and throwing his older brother. I also know that it is something very uplifting when you see your children so involved in any sport. It makes you so proud. Seeing them successful is such a fantastic feeling.
You mentioned before that you felt you wanted to come back to judo after you saw your son on a mat. Did you influence him to do judo or is that something he wanted to do from the start?"
I loved judo, but I didn't want to push him into judo, and actually, we first went to try Taekwondo. I wanted him to try something else before even thinking about Judo.  But he wasn't impressed with it.
Later on, we were in a shopping centre and saw kids in judo suits, so we followed them, and that is how we discovered Destination Judo.  The first time I took him in he was too shy, but he decided to come back, and since then he loves it.
And basically, all my children after that just followed James with their sport choices. It was such a natural thing for them to start judo as they watched James and they were kind of waiting until they would be able to start too. The same happened with my little niece Zara. She used to go with me and watch, and when she was old enough, she joined and now is part of the Destination Judo Squad system.  
James was selected to go to European Cups this year and it went quite well.  He got 5th place in Spain, which would have qualified him to go to European Championships and we are still waiting to hear if this is going to go ahead at the end of the year. We are not sure because of the pandemic situation. It was supposed to be July, but it was cancelled.  He is doing really well.  I'm proud of him.  I'm proud of all my children.
"You decided you would like to come back and you came back with such success!
You became a veteran Champion!
I know how challenging life is on its own, with work, housekeeping, looking after your kids. I cannot imagine squeezing in any professional sports training, but you did it!
How did you manage to juggle all the regular life tasks and train so hard to prepare for such a big competition?"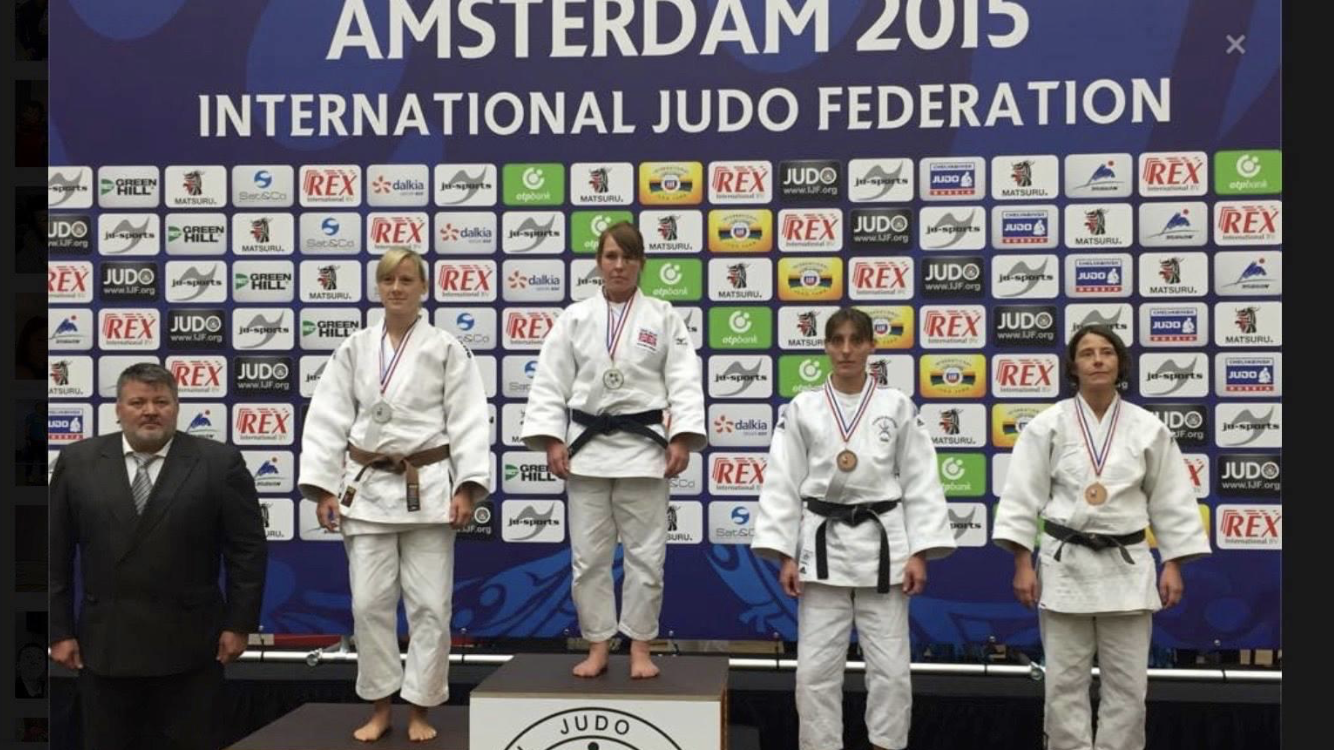 2015 World Veterans Championships
Photograph courtesy of Kirstin Gray
My children helped as I trained at the same time my children trained.
So that helped timewise. I got a training program from Colin that I followed in the mornings after I dropped kids at school.  I was also studying my Coach in Fitness HND, so I did a bit of fitness at that time.  I was fit, and I was also able to use the gym through my course. It all kind of came together quite well. But I will admit that this was the time I trained the most. I also had a lot of support from my family, my friends and my coaches at Destination Judo.
The fear of turning up and not being fit enough and knowing I had committed to myself to do the competition when people were supporting me in, coaching me I think that motivated me a lot.
I didn't want to let anybody down.
I didn't know how it was going to be, what standard it would be, and I simply trained as much as I could.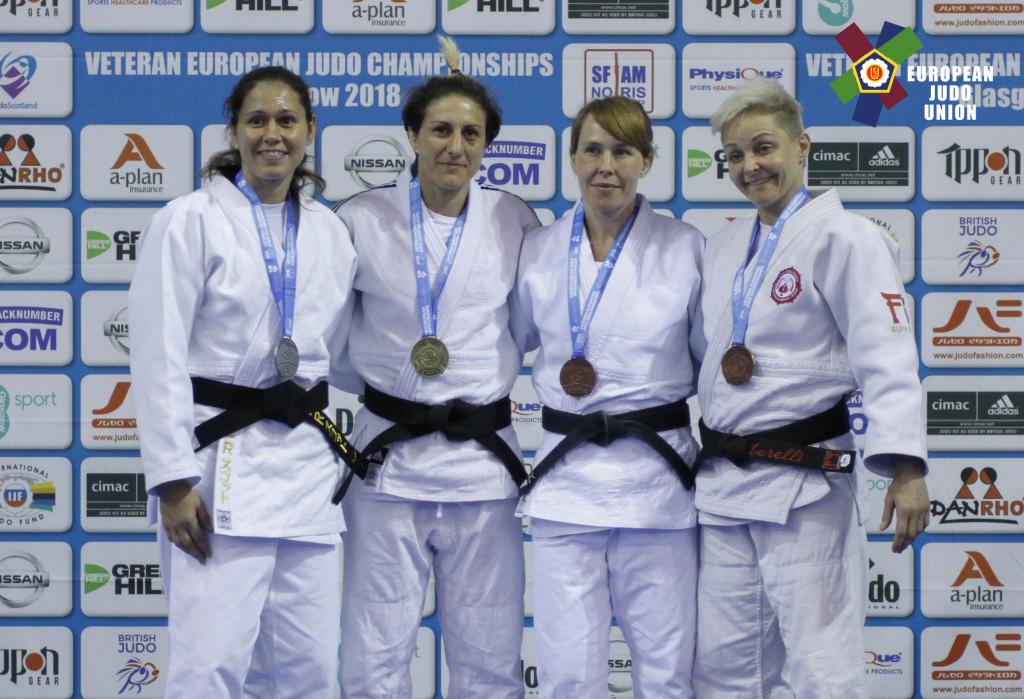 2018 European Judo Championships
Photograph courtesy of Kirstin Gray
"Kirstin, if you think about life, in general, do you think you would be the same person without judo?
Can you tell me more about what impact judo made on your life?
Has it shaped the way you think about life, the way you enjoy life, tackle challenges or deal with problems?"
Yes, I think it definitely does.
It makes you more determined to complete things.
It makes you have that "not give up" attitude towards other things in life.
I think that when you face challenges in life, it helps you to go through it.
It also definitely changed the way I live my life because judo is a big part of our family.  In my family or with my friends we always talk about judo.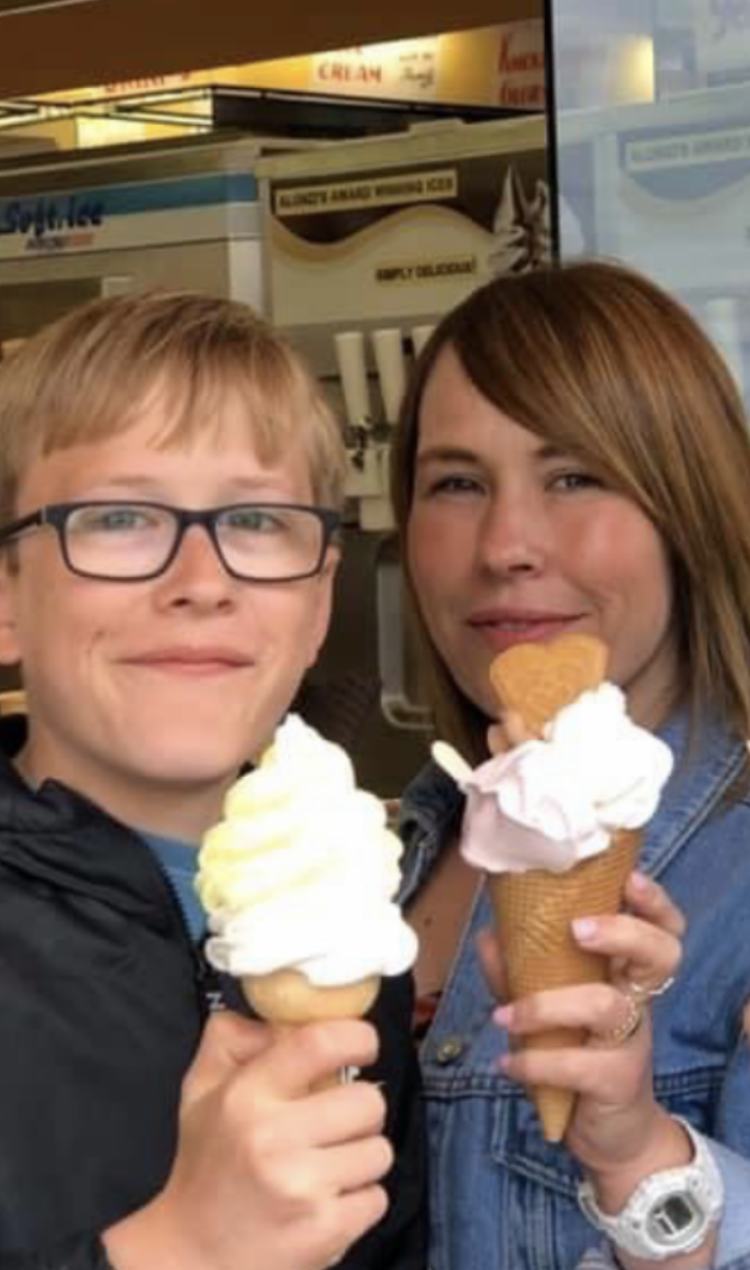 Enjoying an ice cream with Alfie
Photograph courtesy of Kirstin Gray
"If you were not doing judo, what else would you do?"
That is hard to say, and I really have to think about it, because believe it or not I am not that good at other sports. I tried to play tennis, and I have really bad hand and eye coordination, and I couldn't hit the ball, and everybody laughs at me.
I get a bit frustrated when I play team sports. I remember at school when we were playing basketball, and I wanted to throw a ball all the time.
I am not very good at golf. So, I think that if I did another sport, it would probably be something like wrestling or sumo, so similar things to judo.
I also like weightlifting or fitness, so probably it would have been an individual sport.
"And finally, what advice can you give to anyone who would want to start judo?" 
I think that it is a sport for anybody.
It doesn't matter what age you are, what size you are, or even how fit you are. Anyone can get involved in judo. 
You don't have anything to lose, just find yourself a good club and give it a go. You can start when you are 4 years old, but you can also start when you are older, and it is a sport you can do all your life. With other sports like gymnastics for girls for example, when you start young by the time you reach 13-14 years, there is a tendency you stop and never come back but with judo I think it is different.
You can go back – at any point.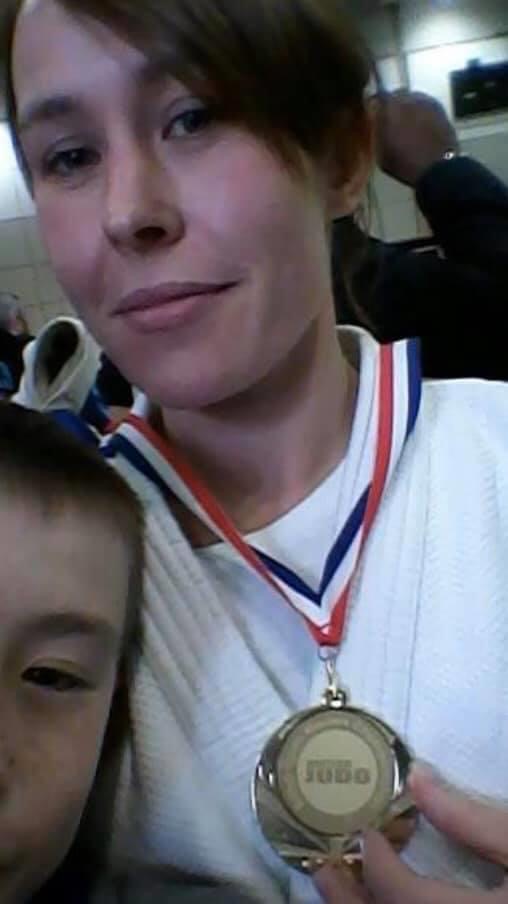 You can go back – at any point.
Gold medal – British Masters
Photograph courtesy of Kirstin Gray